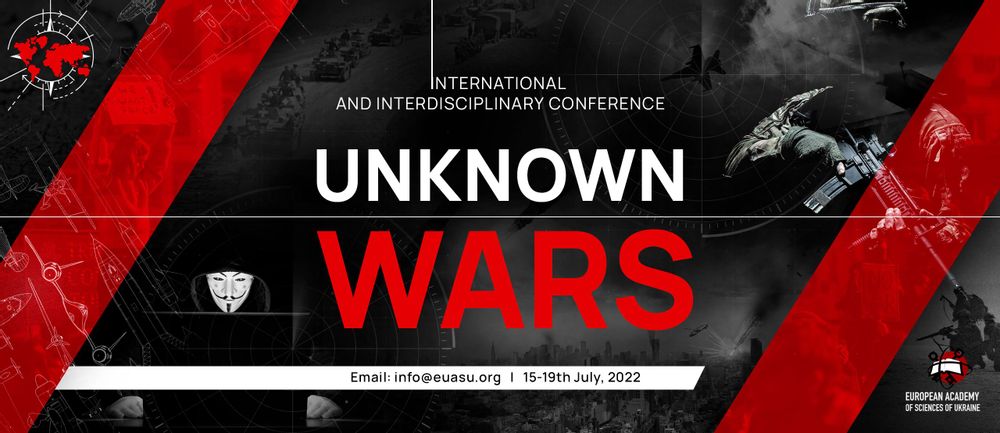 The international interdisciplinary conference "Unknown Wars"
July 15, 2022
The international interdisciplinary conference "Unknown Wars"
(15-19th July, 2022)
The conference "Unknown Wars" is dedicated to the concept of global threats and phenomena directly bonded to them. The events of recent years have demonstrated that major changes are happening with more frequency. We live in the context of global threats: hybrid wars, epidemics, pandemics, political and economic crises, and military conflicts. On the other hand, global threats set a whole chain of subsequent transformations in motion, and this process does not stop. All this demands entirely new approaches in business/security/production/science and other sectors that satisfy the parameters of our current times.
An individual who finds himself in the context of a global threat becomes a consequence of this "unknown war." In such circumstances, the "rules of the game" are unknown, there are no precise forecasts, and the main question becomes "what to do?" However, to find the answer, it is critical to understand what we are in fact dealing with.
For this purpose, the European Academy of Sciences of Ukraine organized an international interdisciplinary conference, "Unknown Wars," which will address the problems of global threats on an academic level.
What makes global threats different?
Large-scale tribulations replace each other, surpassing the boundaries of states and continents. They touch everyone on different levels. One such threat was the pandemic, which affected all areas of life and activities, altering circumstances and practices in almost every industry. Some became more robust and strengthened their positions, while others found themselves in crisis. Businesses that were unable to adjust have simply disappeared. Then the virus was replaced by other global threats. We observe that this conflict has become the epicenter of a cycle of events involving other countries, leading them to unexpected and irreversible changes, and the same is true of other global threats.
It is important to note that these kinds of global threats are not natural cataclysms but are man-made phenomena resulting from political marketing. Certain conditions are necessary to implement global threats. The most critical condition for their emergence is the reaction of people to what is happening, and not simply people, but the majority. They thrive on gathering in crowds, hoping thereby to spread the force of the threat to a larger volume. At the same time, the majority remains silent even when they can influence events taking place. The French sociologist and philosopher Jean Baudrillard named this category the "silent majority". The silent majority is the basis for responding to global threats, regardless of whether we are dealing with an economic crisis, a pandemic, or even a war.
One cannot help but wonder: what will be the next test for humanity? How to face it? How to survive and how to benefit from global threats in all their manifestations: pandemic, crisis, war, etc.? These questions are subjects for discussion in many disciplines and areas of science: sociology, philosophy, psychology, history, geography, anthropology, criminology, studies related to security, business, management, communication, marketing, and others.
For this reason, the conference "Unknown Wars" takes an interdisciplinary approach and aims to unite scholars and experts from different domains on one online platform.
The goal of this conference is to encourage each participant to share their research results, theories, and hypotheses and to raise issues that may not yet be at the center of research programs.
Within the framework of this conference, five online discussion panels are going to be held. During the conference, four to six experts will be invited daily by the moderator to discuss their research findings on the given topics and questions, which are provided to experts in advance. All participants submit their papers addressing one or several of the conference questions, as presented above. These papers are published on the conference website and are included in the conference's collected papers volume, which will be published on Google Books one month after the conference and will be accessible for all.
The registration form can be found here
or on the conference website — "Unknown wars"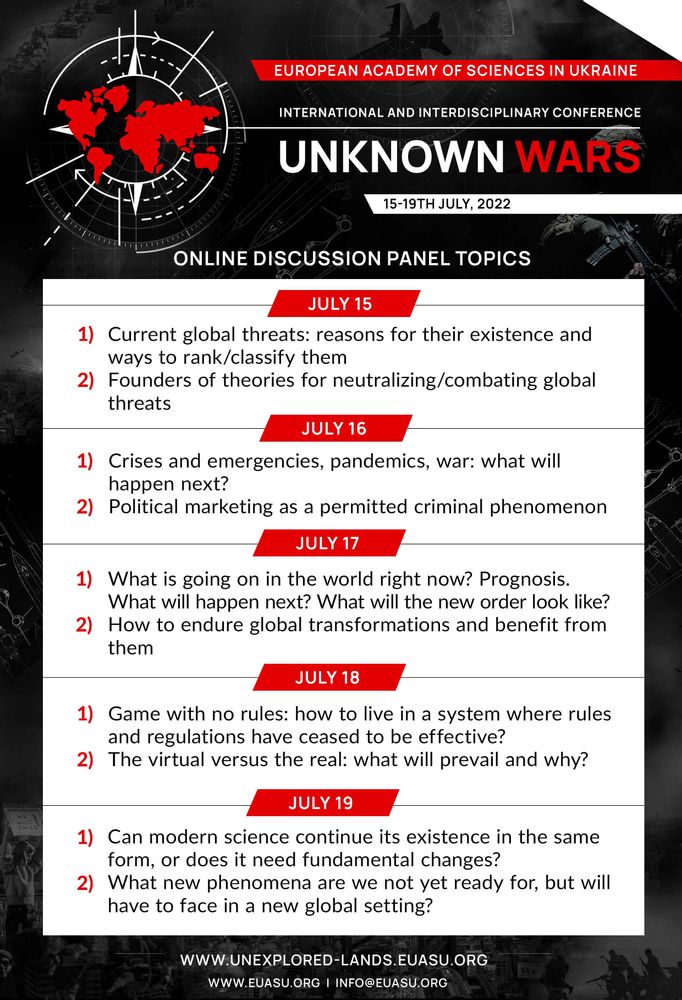 Partners: