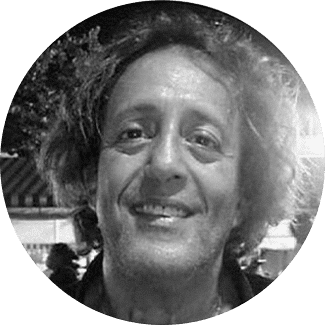 Lucien Oulahbib
French sociologist, political scientist, writer and journalist who taught at the University Lyon 3, from 2007 until 2019. He taught at the University Paris X from 2005 to 2007 and now teaches at Albert le Grand Institute.
A Frenchman of Algerian descent, he is proud of his Berber and Christian origins, and a staunch defender of Berber cultural roots against Arab dominance. Oulahbib was a host at the free radio Canal 75 and was a reporter, an editor of Magazine Sans Nom, Citizen K, Technikart, and worked as a freelance journalist for Esprit Critique, Dogma, Marianne and Tumulte. He manages the Dogma philosophy journal together with Isabelle Saillot.
Dr. Oulahbib holds a master's degree in sociology and economics from the Paris Nanterre University (1984) under the direction of Jean Baudrillard; M.A.S. (1985) under the direction of Jean Baechler (Paris IV Sorbonne), François Bourricaud (Paris IV) and Alain Besançon (EHESS). He was influenced by a French thinker Jean Baudrillard, who was his scientific supervisor and later became a close friend.
Since 2000 he teaches political science, sociology, moral and political philosophy, geopolitics, international relations, communication, media and public opinion analysis at the Jean Moulin University Lyon 3. Lucien Oulahbib's research interests have a wide range from sociology and political philosophy to theology and nihilism. He devotes much attention to the analysis of the philosophy of French nihilism: Bataille, Blanchot, Foucault, Derrida, Deleuze, Lyotard, Baudrillard, Bourdieu which he calls "anti-rational nihilism" for their desire to prevent an understanding of the world.
His writings tackle contemporary French nihilism, radical Islamism, anti-Americanism, and antisemitism. Lucien Oulabib's scientific interests range from sociology, political philosophy, philosophy of law, geopolitics, international relations, communication and information philosophy to theology and nihilism. He has published many articles and numerous books such as Partage des richesses: Pour une pataphysique des fluids (2019), Incitatus: La légende de Shirley (2020), La haine: Est-elle si haïssable? (2017).
Being and Truth: From the Human Reality (Philosophical Commentaries) (French Edition)

Heidegger reduced being to historical time, to its roots, its origins, and not to the social environment like Marx. Sartre, opposing Hegel and Heidegger, wants to save being from the nothingnes

French political correctness; epistemology of a crypto-religion

The shortcomings, the headlong rush towards the destruction of what makes it possible to be together - and not only to live together - are analyzed here in various criticisms (projections) bringing into question.

For example, the theory known as "gender", the erasure of the idea of a nation, of objective value, in short, the blacklisting of everything that does not think "left", ranging from hatred of the rich to the demonization of Israel.

Out of the paths that lead nowhere or how to get out, got free from non-philosophy

The real is no longer perceived objectively; it is erased in favor of its ideological reconstitution hardened into an ideological path that leads nowhere that is nihilism which then tilts towards its opposite: absolutism or the totalitarian order of the philosophically correct. Here we are. It's time to break free.